Board of Trustees Meeting
Administration Bldg., 670 N. State Rt. 123, Lebanon, OH 45036
Community Shred Day October 2, 2021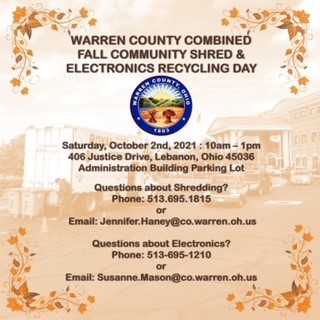 FREE WARREN COUNTY COMBINED FALL PAPER SHREDDING AND ELECTRONICS RECYCLING EVENT!

The Warren County Records Center & Archives and the Solid Waste Department will be hosting their Annual Fall Combined Paper Shredding and Electronics Recycling event on Saturday, October 2nd, from 10:00am to 1:00pm at the Warren County Administration Building parking lot, located at 406 Justice Drive in Lebanon. Shredding is on a first come first serve basis and once the truck is full we will not be able to accept any additional paper.

This event is open to all Warren County residents with free OFF-site paper shredding conducted by Royal Document Destruction. The electronics recycling will be conducted by Cohen Recycling. Donations will be accepted for the electronics recycling, but is not required.
Board of Trustees Meeting
Administration Bldg., 670 N. State Rt. 123, Lebanon, OH 45036
Board of Trustees Meeting
Administration Bldg., 670 N. State Rt. 123, Lebanon, OH 45036
Board of Trustees Meeting
Administration Bldg., 670 N. State Rt. 123, Lebanon, OH 45036
Board of Trustees Meeting
Administration Bldg., 670 N. State Rt. 123, Lebanon, OH 45036
Board of Trustees Meeting
Administration Bldg., 670 N. State Rt. 123, Lebanon, OH 45036
Board of Trustees Meeting
Administration Bldg., 670 N. State Rt. 123, Lebanon, OH 45036
Board of Trustees Meeting
Administration Bldg., 670 N. State Rt. 123, Lebanon, OH 45036
Board of Trustees Meeting
Administration Bldg., 670 N. State Rt. 123, Lebanon, OH 45036
Board of Trustees Meeting
Administration Bldg., 670 N. State Rt. 123, Lebanon, OH 45036
Board of Trustees Meeting
Administration Bldg., 670 N. State Rt. 123, Lebanon, OH 45036